Welcome To New Birth Ministries
Web Site!

Bishop Baise is Grateful for the Faithfulness of God.
For 22 years God has given me Grace to be an Under Shepherd
in the Lords Church.


Please enjoy our Pastor Bishop Francine Baise Preaching during Our 12-5-2021 Sunday Service!

​Bishop Baise ask that you please enjoy
​Dr. Evette Young's message "It is your Covenant Right to be HEALED!
Please enjoy this latest preaching from our Pastor Bishop Francine Baise, recorded August 8, 2021!
Continue to stay safe and Blessed by God!​
HAPPY NEW YEAR!
We Welcome 2021!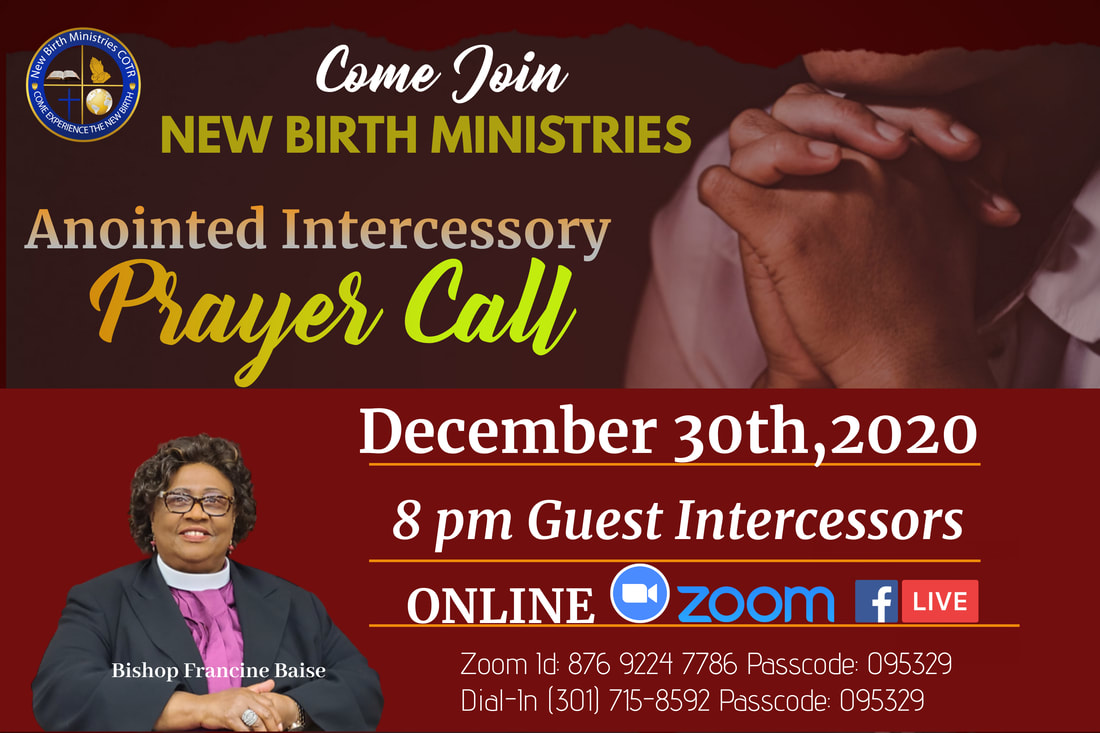 Excellent preaching by New Birth Ministries Youth Pastor Minister Robbin Baise December 8th, 2019. "Allow Me To Demonstrate" scriptures – Daniel 6: 16-27. Please enjoy and share! Stay safe and God Bless!
Sunday July 26, 2020
Good morning New Birth Family and all our Family and Friends.
If you are here looking for our Pastor Bishop Francine Baise
with her Live Preaching message "What's next?" you are in the
wrong spot. She will be LIVE today but only on New Birth Ministries
​Face Book page. I worked late last night but will try to add her Live preaching
today to her other below messages.
We are looking forward to our re-opening next week
August 2nd, 2020, Sunday Morning for Church Service and Holy Communion. We have specific guidelines that MUST be followed so be sure to receive your printed or emailed copy. Contact my wife or me at my cell (302) 494-2944 if you need further clarification. And as always this is Deacon Haywood asking that you stay safe, stay blessed,
wash your hands frequently, and wear your mask!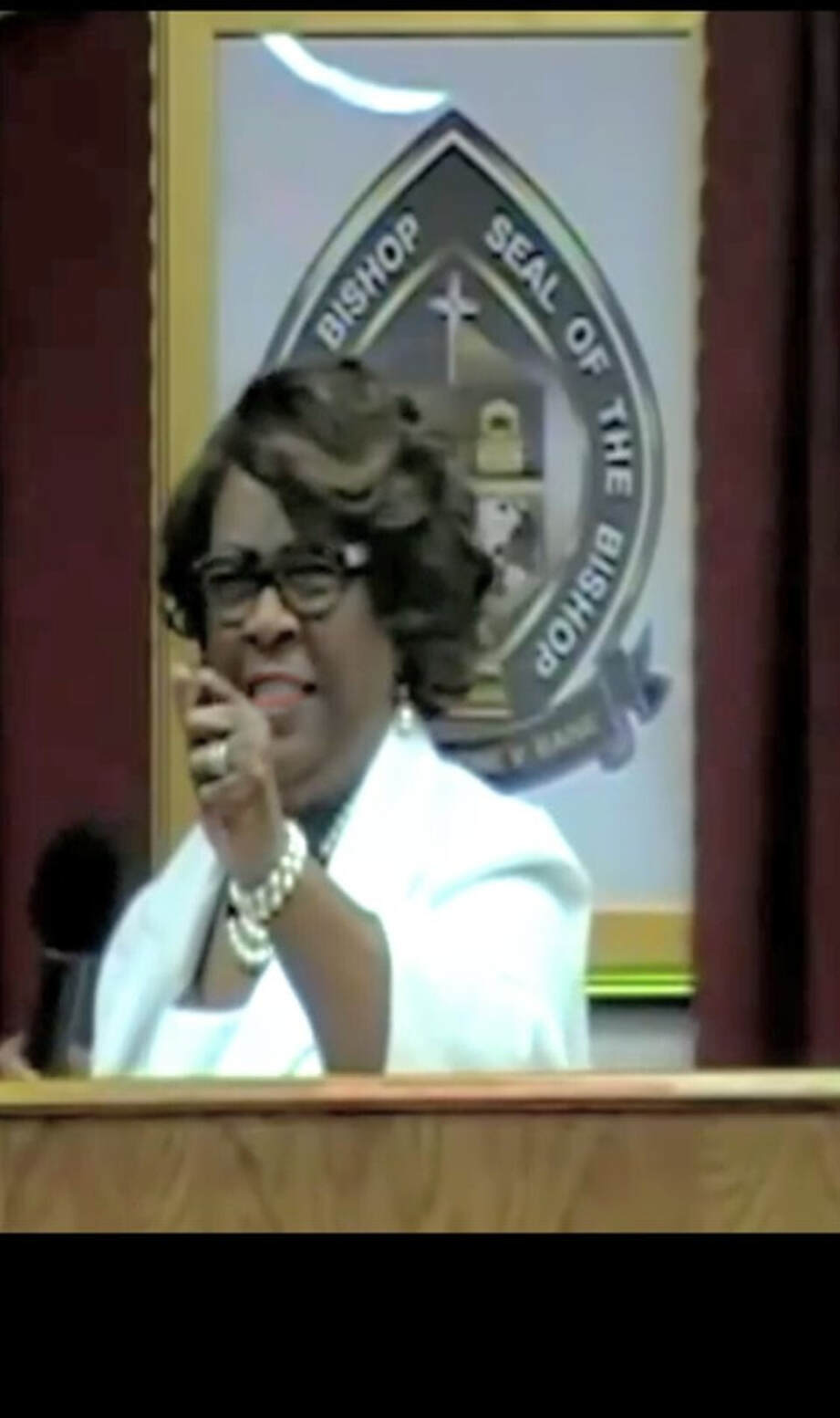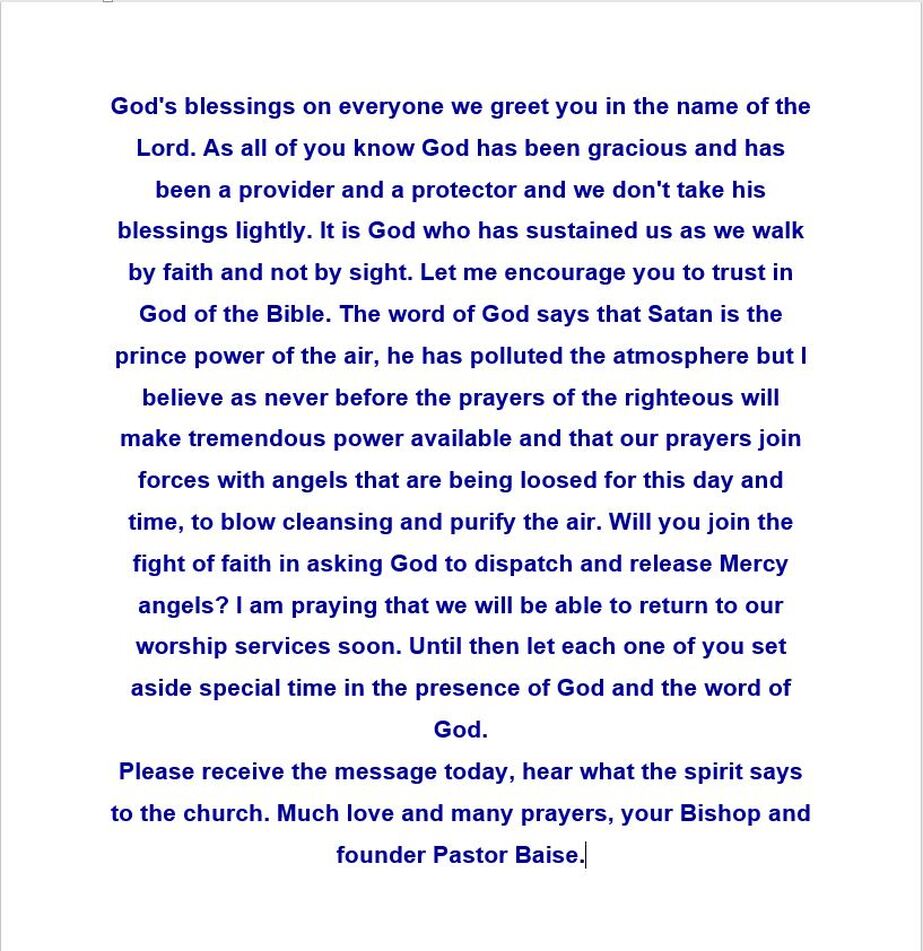 Special Notice
June 21, 2020
Hello everyone! Happy Father's Day to all the fathers from Deacon Haywood! The Pastor and I would like to apologize for the dim lighting of the video you are about to view from her office. Our Pastor is asking you to please turn up the lighting on your personal phones or other devices used to view the message so you can view it a little better.
Thanks Bishop Francine Baise

May 24,2020
Our Pastor's Subject:
"Don't Cast Your Confidence Away!"
Good morning saints! I welcome you in the name of our Lord and Savior and Father God! Here we are close to the end of May and the weather is warming up. Our nation leaders are telling us changes are coming for us to once again start gathering together as a congregation in our church. But there will be guidelines that we all must follow. Always look here for information from our Pastor pertaining specifically for our church.
And now enjoy today's preaching from our wonderful Pastor and please take the time to
Call or Text
and let her know you've enjoyed it and that you love her because she loves each and everyone of you!
And we know she is always praying for us!
​Goodbye for now, Deacon Haywood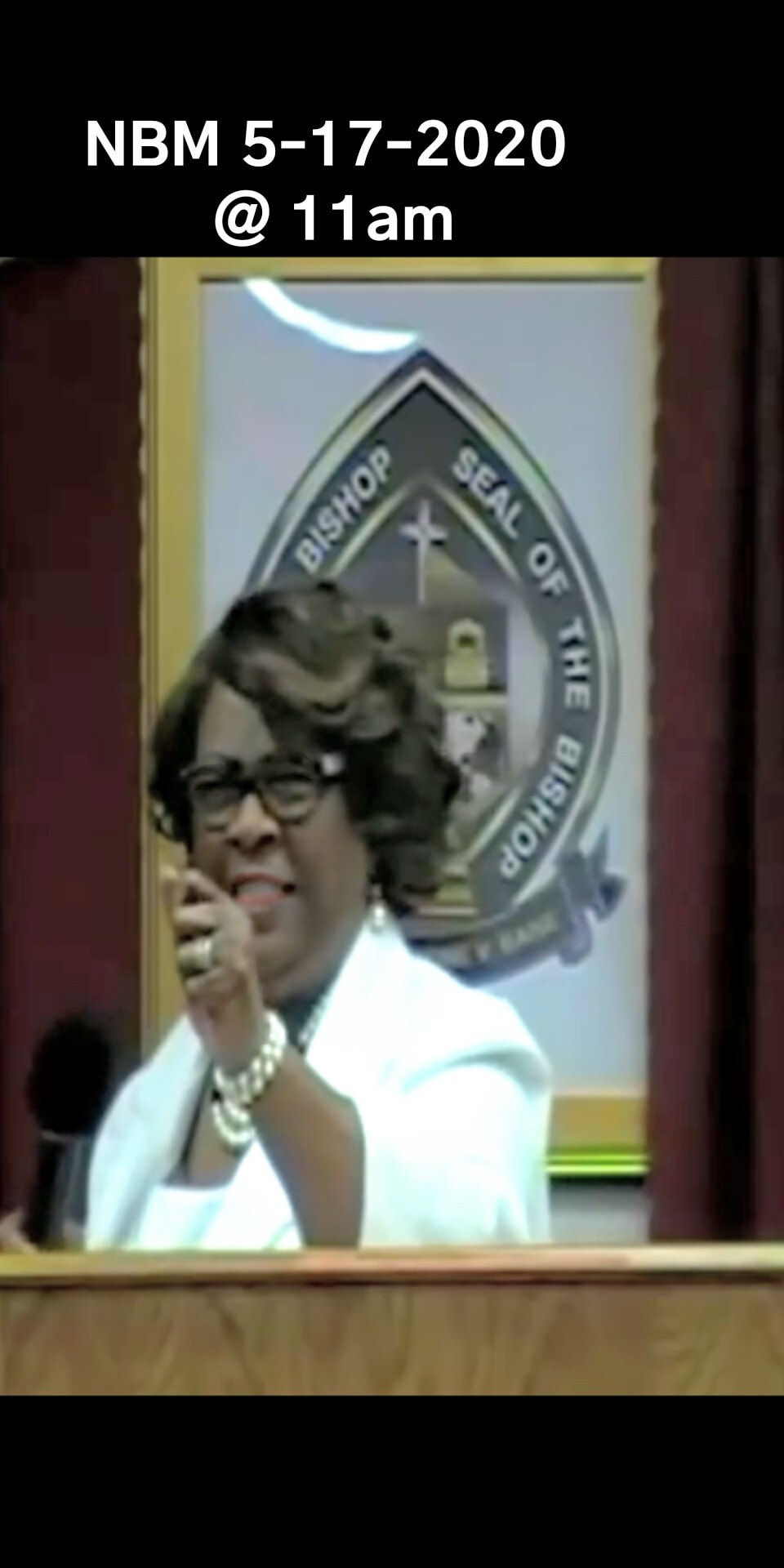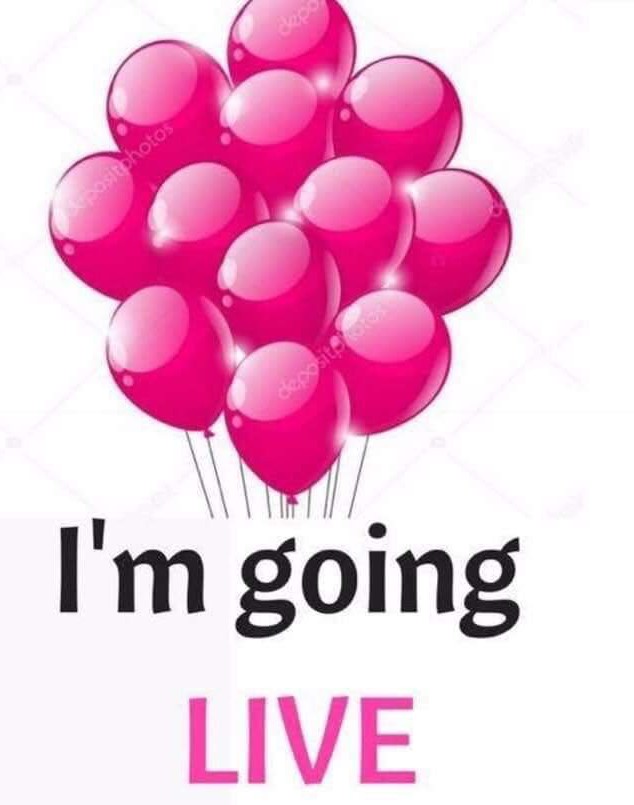 Good morning saints and welcome! Happy Mother's Day to all women in a mother's roll and God bless you! Social distancing is still part of our lives and will end soon! But until then wear the face mask to protect others from you and hope they do the same, keeping us all safe. God bless!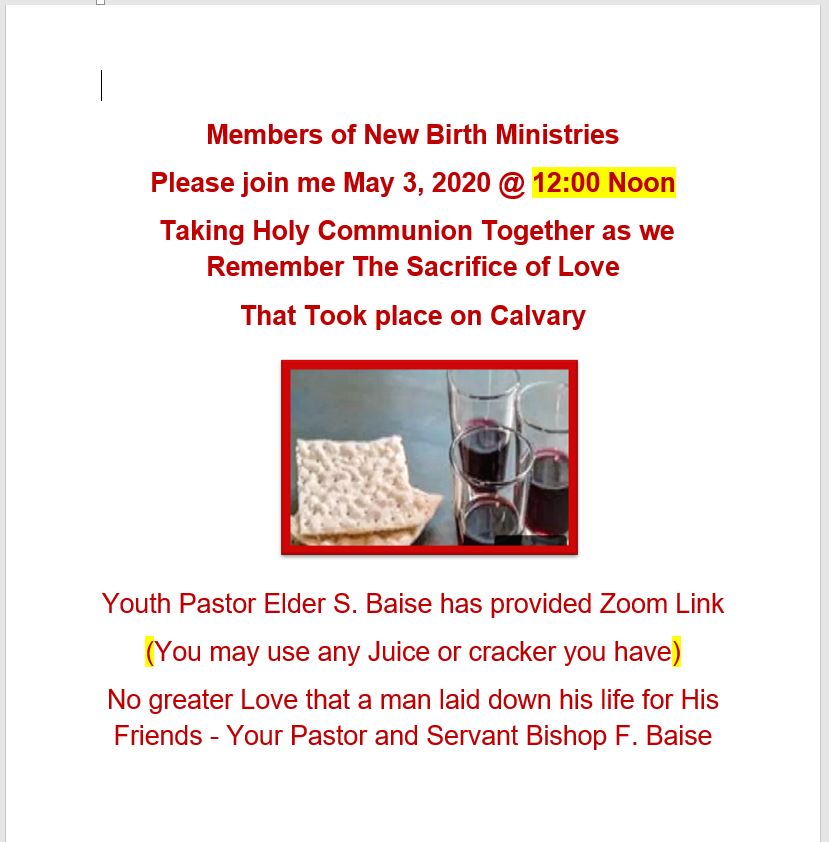 I hope you enjoyed our Pastor as much as I did. smile
Deacon Haywood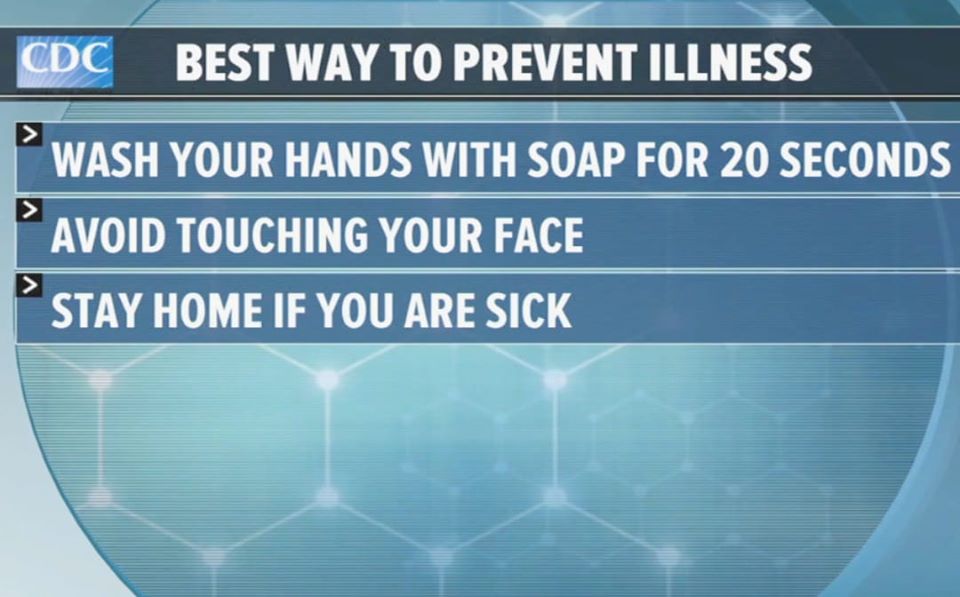 Blessings on you! Let me encourage you in this hour and day we're living in we need to watch as well as we pray. Obey the Word of God and yes wash your hands often and thoroughly, watch and be mindful of the surfaces that you touch and come in contact with.
Obey CDC Guidelines above, and all of us stay up under the blood of Jesus Christ! This is no time to come out from under the blood.



---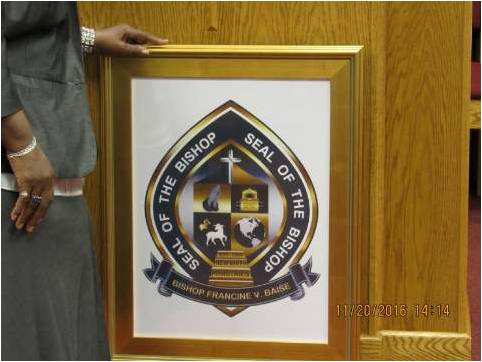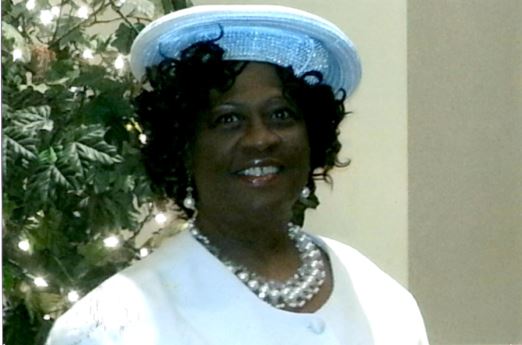 You are welcome to join us!

For An Exciting Time of Worship, Praise, and Study of
God's Word!

10:00 A.M. Sunday School

11:00 A.M. Morning Worship

7:00 P.M. Wednesday Prayer

7:30 P.M. Wednesday Bible Study